Preliminary drawing
Padel is the world's fastest growing sport. In Scandinavia, Acenta - house of padel has become a dominant player through its expertise, track construction, online trade and distribution of some of the industry's strongest brands. In connection with the sport's growth in Europe, the company now wants to make an issue to take the European market even better. Sleeping giants like Germany, Poland, Romania and Great Britain are still in the starting pit when it comes to establishing the sport and the potential is huge. If you want to be part of the Norwegian padel adventure, register your interest and we will send you more information without obligation.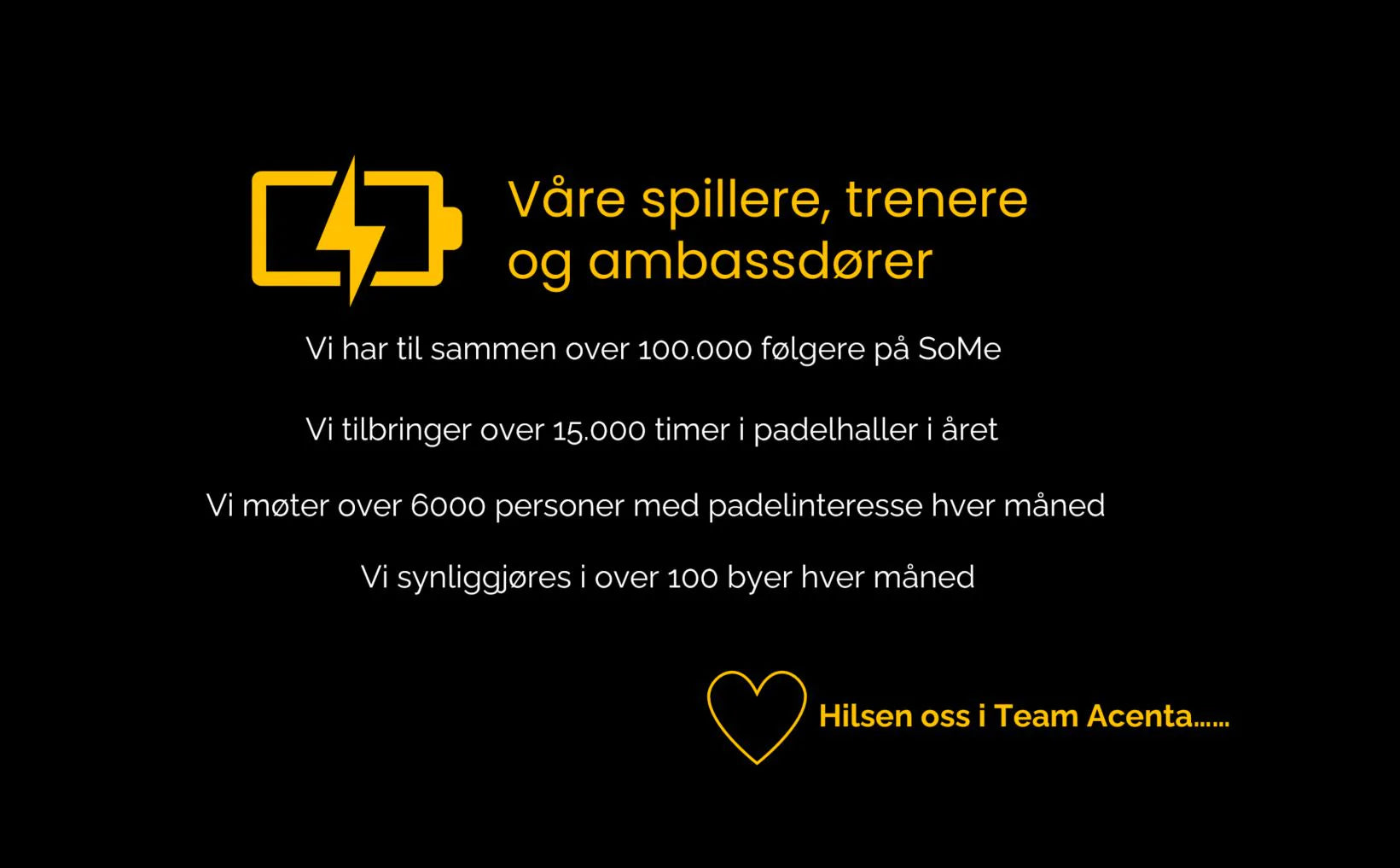 Royal Padel

Starvie

Bidi Badu

Sergio Tacchini

Akkeron
We have offices in Norway and Sweden, partners in Finland and Denmark, as well as dealers and agents in all countries
We have distribution agreements with leading brands We have extremely good insight and knowledge of the market and the products We have proprietary solutions for online trading and affiliate, built to quickly become an international platform We have signed agreements with players, coaches and ambassadors
Acenta supplies rackets and other padel accessories to many of the country's padel clubs and padel centers, and that we serve a little B2C through padelutstry.no.

In Sweden, we deliver on a larger scale to retail and retail, such as: among others: Stadium, Intersport, Boozt, NK Sport, Nelly and many local sports stores.
Johnny Gravfort (owner 35.7%), chairman of the board: E-commerce, marketing, sales and business development. Has 5 years of experience from the IT industry within both retailers, distribution and producer sales as well as a number of different board assignments. . Sold his company to Atea in 2015 and has since started several companies, which are both established and in the growth phase. Established Norway's first padel center and Acenta in 2017. Daniel Persson (owner 24.5%), General manager Sweden: Management, sales, logistics and business development.Educated at Växjö University in economics and logistics. Started his career at ICA's head office in Stockholm, as a project manager, in recent years he has worked in the retail trade with e.g. The agency for Hummel Sport and the last 2 years with brands like Varlion and Sergio Tacchini. Carsten Johansen (owner 14.79%), General manager Norway: Management, sales, brand and TB. Is a trained marketer at NMH. Has his background as a soccer player at the highest national level. Has since built up Bocata Foodfactory & Cofeebar and Nobel Catering & Conditori to become one of Norway's largest players in catering. Was headhunted to lead Acenta 2020. Roland Alm (owner 24.5%), Sales manager: Sales, brand, team building and concept manager. Has 20 years of experience from the sports industry. Started with the sale of Quicksilver and a few years later was headhunted for Hummel. Has worked with large chains such as Stadium and Intersport, as well as retailers such as Boozt, NK sport and Nelly. In recent years, together with Daniel Persson, he has worked with distribution of padel products, as well as distribution of Varlion and Sergio Tacchini